Ticketing Powered by
A1A – Jimmy Buffett Tribute
A1A – Jimmy Buffett Tribute — LIVE at MadLife Stage & Studios on Saturday, June 24th at 9:55!
A1A – Jimmy Buffett Tribute
WEBSITE | FACEBOOK | INSTAGRAM
A1A – The Official and Original Jimmy Buffett Tribute Show was born in 1991 when Lead Vocalist and Guitarist, Jeff Pike asked Atlanta Parrot Head Club and PHIP Founder, Scott Nickerson to join him in his already successful one-man tribute to Jimmy Buffett. In 1992, the band won a Jimmy Buffett Sound Alike Contest for Margaritaville Records and the A1A ball started rolling – a ball that is still rolling 28 years later.
Over the years as the band grew A1A was extremely instrumental in the fundamental building and growth of the International Parrot Head Club community and the Trop Rock Music genre as it is today. They were the first band to repeatedly headline the annual Jimmy Buffett "Meeting of The Minds" Parrot Head Convention and many more landmark national annual Parrot Head Events which formed the building blocks for the Parrot Head Nation as it is today.
In 1994, A1A and The Atlanta Parrot Head Club were invited to take part of Jimmy's new video, 'Fruitcakes', which was filmed at Universal Studios in Orlando, Florida.
In 1995, Jeff won a guitar competition, and that allowed him to appear on stage with Jimmy Buffett and The Coral Reefer Band in Atlanta, Georgia, performing 'Cheeseburger in Paradise.' The entire show, including Jeff's performance, was recorded for the 'Jimmy Buffett – Barometer Soup Radio Special,' which still receives regular airplay on Jimmy Buffett's 'Radio Margaritaville Radio.'
A1A has released 5 CD's , played to countless high profile clients around the world and continue to draw record crowds to their public performances. Members from Jimmy Buffett's band, Greg "Fingers" Taylor, Mac McAnally, Michael Utley, Robert Greenidge, Peter Mayer, Nadirah Shakoor and Tina Gullickson have all performed with the band over the years. In 2009 Nadirah Shakoor chose A1A to be her back up band to help promote her Mailboat Records Release, 'Nod To The Story Teller.' In 2012, Jimmy Buffett was instrumental in landing A1A in the Lions Gate Major Motion Picture Release, 'What to Expect When You're Expecting.' The band recorded Jimmy's classic, 'Why Don't We Get Drunk,' which was included in the movie and on the soundtrack released by Capitol Records. Recently in 2016, Jimmy Buffett and Mac McAnally approached A1A with a request that they be Jimmy's band during a private performance for The World Surf League at The Masters Open in Augusta, Georgia. Not surprisingly, the band was very proud to be Jimmy's ' Coral Reefer Band' for a day.
A1A performs as a seven to a ten piece band, complete with audio and light production, bringing to life a colorful and energetic family friendly Jimmy Buffett Tribute Show. For added ambiance and realism, adding the A1A Beachwrecked Pirates is a sure fire way to boost up the enthusiasm and energy to your event.
When attending an A1A performance you can expect to hear all of your Jimmy Buffett favorites. You will also be treated to some classic Reggae as well as some original A1A Trop Rock music. The energy, musicianship, originality, and excitement that have always surrounded an A1A performance is an experience and a driving force that has helped the band remain the first and foremost Jimmy Buffett Tribute Show in history.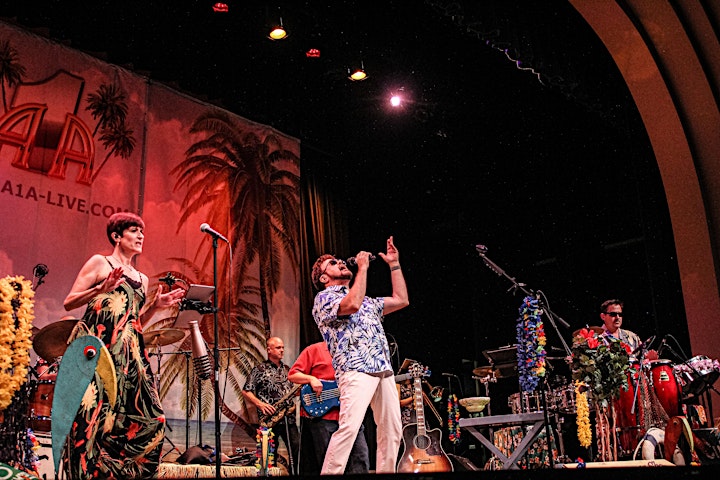 VENUE INFORMATION:
All ticket holders are able to order food and drinks during the event. Standing Room Ticket holders generally place their orders with the venue bar staff. Main Floor Reserved Table and VIP Balcony Table ticket holders are served by MadLife's friendly wait staff throughout the event.
Refer to the seating map below for a layout of the venue for this show. Please note the table arrangement is subject to change and not all tables may be available.
If You Wish To Select A Specific Reserved Table:
Holders of VIP Balcony and Main Floor Reserved Table tickets have the ability to select any available reserved table from the moment their tickets are purchased, up until 30 minutes BEFORE doors open to the event (i.e. if doors are at 6:30, cutoff time for selecting a reserved table would be at 6:00). Tables can be selected EITHER at the Box Office or by contacting the Box Office during its hours of operation at (678) 384-2363 ext. 1. Please note that tables cannot be selected online for this show and if you do not select a table, MadLife will select one for you. Selecting a table is not required, but is an option available.
For any wheelchair or ADA needs, please contact the Box Office in advance of the event at (678) 384-2363 ext. 1.
Please Note: Ticket Prices May Increase At Any Time
For any other questions regarding the event or tickets, please contact the Box Office during its hours of operation at (678) 384-2363 ext. 1.
Box Office hours of operation are Wednesday-Saturday 5:00 PM – 9:00 PM.