Ticketing Powered by
Billy Bob Thornton and The Boxmasters
Billy Bob Thornton and The Boxmasters — LIVE at MadLife Stage & Studios on Wednesday, June 14th at 7:30!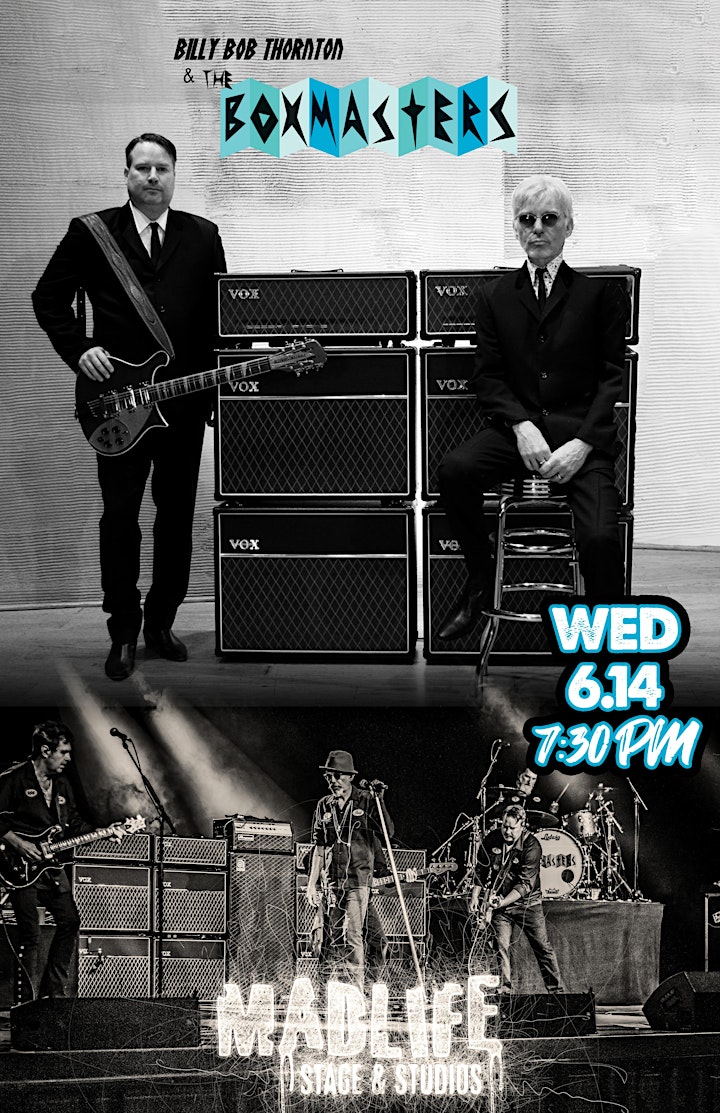 Billy Bob Thornton and The Boxmasters
Formed in 2007, The Boxmasters have recorded an impressive and diverse catalogue of music that touches on their love of a wide array of influences, but most importantly, the rock and roll of the 1960's. Listening to The Boxmasters, one can hear obvious odes to the Beatles, Byrds and Beach Boys, but also important to The Boxmasters are The Mothers of Invention, Kris Kristofferson, John Prine and Big Star.
Since forming The Boxmasters, several long-time friends have contributed to the sound of the band, but the core of The Boxmasters has always been Andrew and Thornton. As primary songwriters, the sound of the Boxmasters has been an evolution as the duo constantly strive to find new inspiration, new sounds and new ways of expressing what is in their hearts and on their minds. But at the core, there is a backbeat, a lyric with meaning and music played with emotion.
As a touring band, The Boxmasters have cultivated a rabid cult fanbase across the United States and Canada. Opening for the likes of ZZ Top, Steve Miller, George Thorogood and Kid Rock The Boxmasters have proven to win over large audiences. As a headliner, frequent stops in Kansas City at "Knuckleheads", Springfield, Illinois at "Boondocks" and "Merrimack Hall" in Huntsville, Alabama have shown dedicated yet still growing audiences. Two appearances at Levon Helm's "Midnight Ramble" in Woodstock, New York were highlight performances for the band, as well as the "Ramble at The Ryman" that Levon hosted in 2008. The Boxmasters performed on "The Grand Ole Opry" in 2015, another in a growing resume of must-play venues.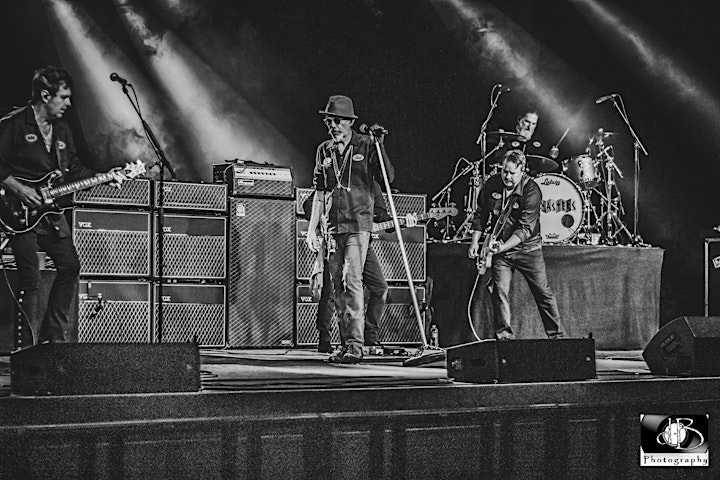 VENUE INFORMATION:
All ticket holders are able to order food and drinks during the event. Standing Room Ticket holders generally place their orders with the venue bar staff. Main Floor Reserved Table and VIP Balcony Table ticket holders are served by MadLife's friendly wait staff throughout the event.
Refer to the seating map below for a layout of the venue for this show. Please note the table arrangement is subject to change and not all tables may be available.
If You Wish To Select A Specific Reserved Table:
Holders of VIP Balcony and Main Floor Reserved Table tickets have the ability to select any available reserved table from the moment their tickets are purchased, up until 30 minutes BEFORE doors open to the event (i.e. if doors are at 6:30, cutoff time for selecting a reserved table would be at 6:00). Tables can be selected EITHER at the Box Office or by contacting the Box Office during its hours of operation at (678) 384-2363 ext. 1. Please note that tables cannot be selected online for this show and if you do not select a table, MadLife will select one for you. Selecting a table is not required, but is an option available.
For any wheelchair or ADA needs, please contact the Box Office in advance of the event at (678) 384-2363 ext. 1.
Please Note: Ticket Prices May Increase At Any Time
For any other questions regarding the event or tickets, please contact the Box Office during its hours of operation at (678) 384-2363 ext. 1.
Box Office hours of operation are Wednesday-Saturday 5:00 PM – 9:00 PM.