Ticketing Powered by
Cougar Town – John Mellencamp Tribute | LAST TICKETS – BUY NOW!
Cougar Town – John Mellencamp Tribute — LIVE at MadLife Stage & Studios on Saturday, April 8th at 7:00!
Cougar Town – John Mellencamp Tribute
Cougar Town was created by long time friends Michael Perea and Tony C. after years of wanting to form a project together. It always seemed like the two were fronting different bands at the same time.  Finally, they found themselves with the time to form a project.  Now what to do?   Obviously with Michael's penchant for hard rock and heavy metal and Tony's preference for gothic and new wave the two had to meet in the middle.  Michael was visiting Tony's house one evening, and while Tony was playing his acoustic guitar he stumbled upon a song he had covered in his youth, Pink Houses.   Michael joined in singing and Cougar Town was born.   The two discovered they were both fans of John Mellencamp.  Problem solved.
Now that the obstacle of genre and artist was behind them, it was time to think about other members.   Tony mentioned recently having played with a drummer and keyboard player that he wanted to perform with again.  Enter drummer, Jackson Matayo and keyboardist Jimmy Graft.  The three musicians were thrilled to have reunited. 
Next came the dreaded social media ads.   Tony (who practices social media abstinence) handed the reins over to Michael.  After a few ads and auditions, enter bass player Mark Newmeyer and guitarist Joe Easton.   Strangely, both Mark and Joe were friends with Michael in the past but had lost touch. 
The unit quickly gelled and embarked on bringing John Mellencamp's exceptional writing and their own brand of good time energy to stages throughout the Southeast. 
Professionalism.  Positivity.  Performance.  Passion….  and Pink Houses. 
What a combination, see Cougar Town as soon as you get the chance. You won't regret it!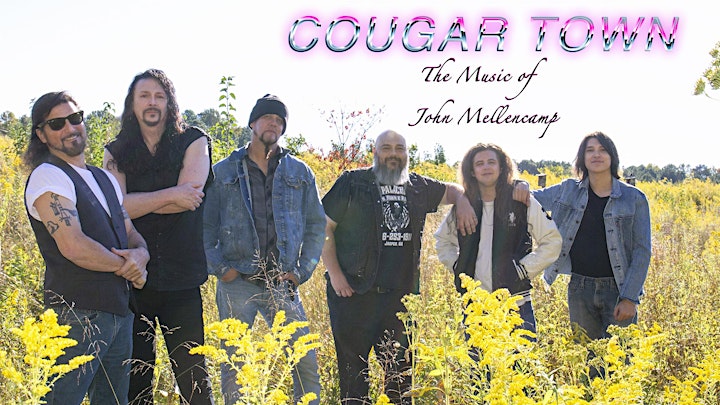 VENUE INFORMATION:
All ticket holders are able to order food and drinks during the event. Standing Room Ticket holders generally place their orders with the venue bar staff. Main Floor Reserved Table and VIP Balcony Table ticket holders are served by MadLife's friendly wait staff throughout the event.
Refer to the seating map below for a layout of the venue for this show. Please note the table arrangement is subject to change and not all tables may be available.
If You Wish To Select A Specific Reserved Table:
Holders of VIP Balcony and Main Floor Reserved Table tickets have the ability to select any available reserved table from the moment their tickets are purchased, up until 30 minutes BEFORE doors open to the event (i.e. if doors are at 6:30, cutoff time for selecting a reserved table would be at 6:00). Tables can be selected EITHER at the Box Office or by contacting the Box Office during its hours of operation at (678) 384-2363 ext. 1. Please note that tables cannot be selected online for this show and if you do not select a table, MadLife will select one for you. Selecting a table is not required, but is an option available.
For any wheelchair or ADA needs, please contact the Box Office in advance of the event at (678) 384-2363 ext. 1.
Please Note: Ticket Prices May Increase At Any Time
For any other questions regarding the event or tickets, please contact the Box Office during its hours of operation at (678) 384-2363 ext. 1.
Box Office hours of operation are Wednesday-Saturday 5:00 PM – 9:00 PM.