Ticketing Powered by
Hope's Anchor – Soulful, Groove-Oriented Rock, & Pop Rock Soul
Hope's Anchor – Soulful, Groove-Oriented Rock, & Pop Rock Soul — LIVE at MadLife Stage & Studios on Wednesday, October 26th at 7:30!
Hope's Anchor
Hope's Anchor formed when Shawn Johnson, Jeff Wood, Raymond Hemms, and Harry Wolle decided to join together in creating Christian rock worship music designed to bring encouragement to those searching for a personal relationship with God.
The band's musical style merges heavy, groove-oriented rock, with soulful melodic and harmonic vocal phrasing, to create music that strives to celebrate the personal transformation that occurs through inviting Christ into our lives. He is, indeed, our Anchor of Hope through all of life's challenges, and we invite you to the party.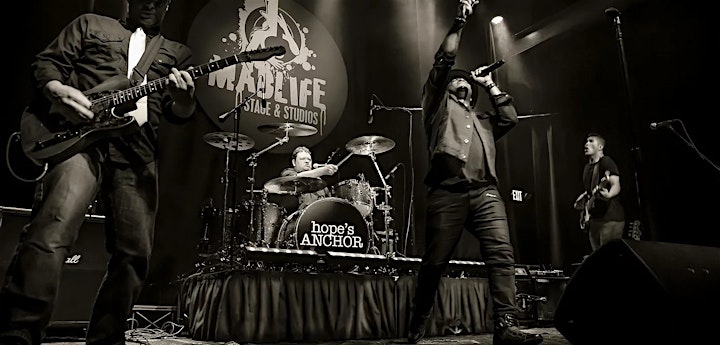 VENUE INFORMATION:
All ticket holders are able to order food and drinks during the event. Standing Room Ticket holders generally place their orders with the venue bar staff. Main Floor Reserved Table and VIP Balcony Table ticket holders are served by MadLife's friendly wait staff throughout the event.
Refer to the seating map below for a layout of the venue for this show. Please note the table arrangement is subject to change and not all tables may be available.
If You Wish To Select A Specific Reserved Table:
Holders of VIP Balcony and Main Floor Reserved Table tickets have the ability to select any available reserved table from the moment their tickets are purchased, up until 30 minutes BEFORE doors open to the event (i.e. if doors are at 6:30, cutoff time for selecting a reserved table would be at 6:00). Tables can be selected EITHER at the Box Office or by contacting the Box Office during its hours of operation at (678) 384-2363 ext. 1. Please note that tables cannot be selected online for this show and if you do not select a table, MadLife will select one for you. Selecting a table is not required, but is an option available.
For any wheelchair or ADA needs, please contact the Box Office in advance of the event at (678) 384-2363 ext. 1.
Please Note: Ticket Prices May Increase At Any Time
For any other questions regarding the event or tickets, please contact the Box Office during its hours of operation at (678) 384-2363 ext. 1.
Box Office hours of operation are Wednesday-Saturday 5:00 PM – 9:00 PM.