Ticketing Powered by
LIVE BAND KARAOKE featuring YOU!
Live Band Karaoke featuring 'The Checkers' and YOU! — LIVE at MadLife Stage & Studios on Tuesday, May 16th at 7:00!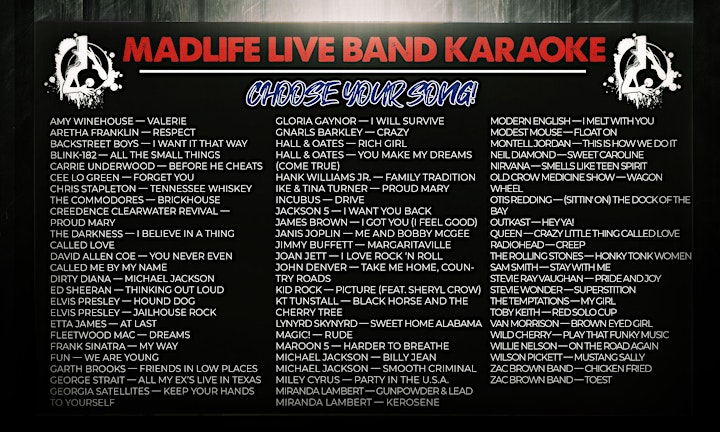 Live Band Karaoke featuring 'The Checkers'
If you've ever wanted to take the stage and pour your heart out singing your favorite songs for friends, family and total strangers, MadLife's Live Band Karaoke is here for you! Simply pick a song from our Live Karaoke Song List and register your performance with MadLife.
CLICK HERE to access the Live Band Karaoke registration page. Space is limited, so register now and tell all your friends you are taking the stage!
PLEASE NOTE that purchasing a ticket does not ensure a performance slot for Live Band Karaoke. All performers must register in advance via the registration link, or by filling out a performance card when you are at MadLife for the Live Band Karaoke show. PLEASE NOTE everyone needs a ticket — performers and attendees.
Once you register, you will be confirmed as one of the featured singers for the night, meaning you will take MadLife's awesome stage and go for it! Your performance will be accompanied by "The Checkers", MadLife's House Band for Live Karaoke nights. MadLife's production team will make sure you look and sound amazing… or at least as good as you can!
All Live Karaoke performances are recorded by MadLIfe's production team in Pro Tools audio and HD video. Live Karaoke singers can purchase the multi-cam video of their performance for a nominal fee, so they can share their moments on MadLife's stage with friends, family and even booking agencies!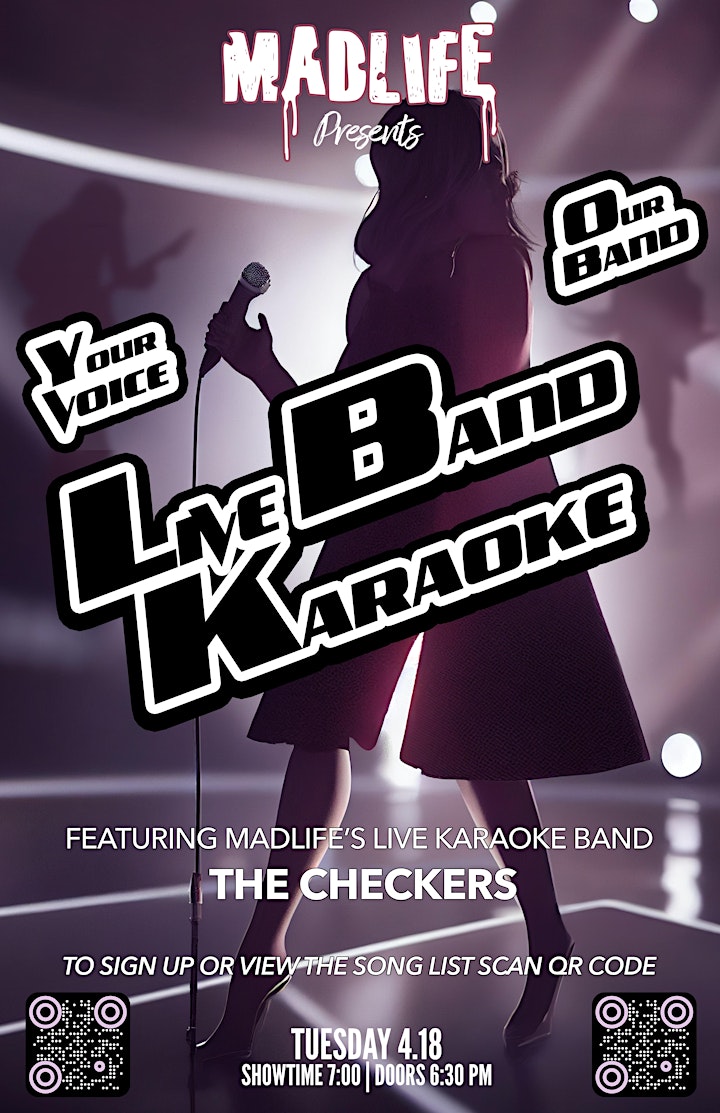 _________________________________________________
The Checkers
The Checkers is MadLIfe's House Live Karaoke Band, and is comprised of some of the most talented and versatile musicians in the South. They provide rhythm, strings, horns, even backup singers to enhance every performance. The Checkers' Live Band Karaoke set-list is extensive, and their talents assure every live Karaoke singer deliver their absolute best stage performance!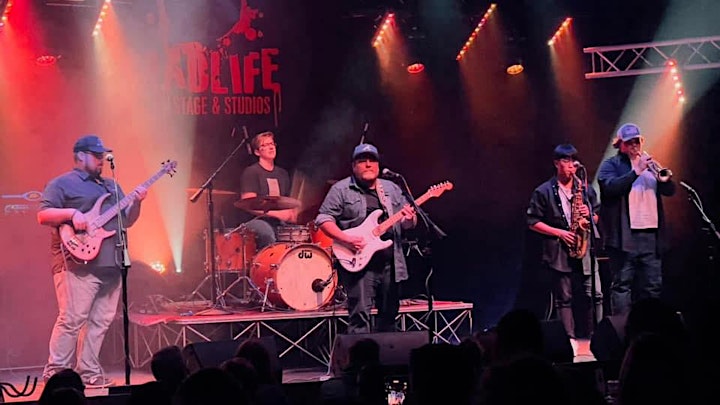 _________________________________________________
VENUE INFORMATION:
All ticket holders are able to order food and drinks during the event. Standing Room Ticket holders generally place their orders with the venue bar staff. Main Floor Reserved Table and VIP Balcony Table ticket holders are served by MadLife's friendly wait staff throughout the event.
Refer to the seating map below for a layout of the venue for this show. Please note the table arrangement is subject to change and not all tables may be available.
If You Wish To Select A Specific Reserved Table:
Holders of VIP Balcony and Main Floor Reserved Table tickets have the ability to select any available reserved table from the moment their tickets are purchased, up until 30 minutes BEFORE doors open to the event (i.e. if doors are at 6:30, cutoff time for selecting a reserved table would be at 6:00). Tables can be selected EITHER at the Box Office or by contacting the Box Office during its hours of operation at (678) 384-2363 ext. 1. Please note that tables cannot be selected online for this show and if you do not select a table, MadLife will select one for you. Selecting a table is not required, but is an option available.
For any wheelchair or ADA needs, please contact the Box Office in advance of the event at (678) 384-2363 ext. 1.
Please Note: Ticket Prices May Increase At Any Time
For any other questions regarding the event or tickets, please contact the Box Office during its hours of operation at (678) 384-2363 ext. 1.
Box Office hours of operation are Wednesday-Saturday 5:00 PM – 9:00 PM.