Ticketing Powered by
Resist & Bite – Heavy Metal (feat. Tommy Skeoch — formerly of Tesla)
Resist & Bite – Heavy Metal (feat. Tommy Skeoch — formerly of Tesla) — LIVE at MadLife Stage & Studios on Friday, May 12th at 7:00!
Resist & Bite
Resist & Bite was formed in early 2019 by Tommy Skeoch (formerly of Tesla), David Parks, Steve Stokes, Brian Powell and Nathan Utz (formerly of Lynch Mob).
The band spent most of 2019 writing and recording. They made themselves public to world in February of 2020. On February 29, the band self produced and released their first song "The Myth I'm Livin' " on Metal Works, 105.9 The Rock in Nashville, TN. The song has since achieved much positive attention worldwide.
In June of 2021, the band released another single and video titled "Fate." The song was recorded and mixed by Michael Rosen at Sound Stage Studios in Nashville. The song is 1 of 13 songs set to be released as a full album in late 2021.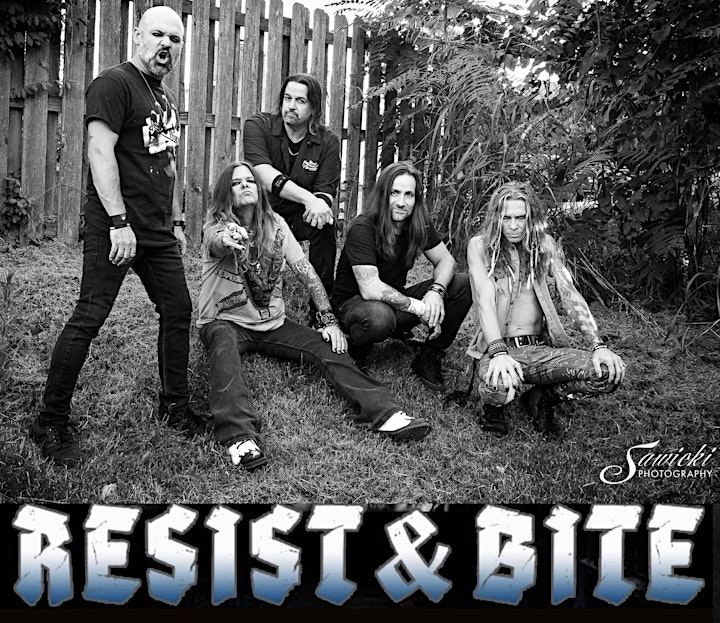 VENUE INFORMATION:
All ticket holders are able to order food and drinks during the event. Standing Room Ticket holders generally place their orders with the venue bar staff. Main Floor Reserved Table and VIP Balcony Table ticket holders are served by MadLife's friendly wait staff throughout the event.
Refer to the seating map below for a layout of the venue for this show. Please note the table arrangement is subject to change and not all tables may be available.
If You Wish To Select A Specific Reserved Table:
Holders of VIP Balcony and Main Floor Reserved Table tickets have the ability to select any available reserved table from the moment their tickets are purchased, up until 30 minutes BEFORE doors open to the event (i.e. if doors are at 6:30, cutoff time for selecting a reserved table would be at 6:00). Tables can be selected EITHER at the Box Office or by contacting the Box Office during its hours of operation at (678) 384-2363 ext. 1. Please note that tables cannot be selected online for this show and if you do not select a table, MadLife will select one for you. Selecting a table is not required, but is an option available.
For any wheelchair or ADA needs, please contact the Box Office in advance of the event at (678) 384-2363 ext. 1.
Please Note: Ticket Prices May Increase At Any Time
For any other questions regarding the event or tickets, please contact the Box Office during its hours of operation at (678) 384-2363 ext. 1.
Box Office hours of operation are Wednesday-Saturday 5:00 PM – 9:00 PM.