Ticketing Powered by
The Dave Matthews Tribute Band
The Dave Matthews Tribute Band — LIVE at MadLife Stage & Studios on Saturday, May 27th at 9:55!
The Dave Matthews Tribute Band
Their name says it all: The Dave Matthews Tribute Band. For nearly 20 years, the band has been performing sold out shows around the world; playing over 1,500 dates in 46 states and 8 countries. Many go to their live shows with reservations, high expectations, and the burning question, "Do these guys sound like the real Dave Matthews Band?" Almost always the answer is, "Yes!"
Since 2004, The DMTB is the only nationally touring tribute to the Dave Matthews Band. This 5-piece ensemble strives to pay homage to their famous counterparts by matching the excitement, energy, intensity and intimacy of a DMB live show.
While most fans never witnessed the real band before they became the platinum-selling artists they are today, The Dave Matthews Tribute Band prides itself on giving audiences this opportunity at intimate venues around the world.
As Rick Grant of Entertaining U in Jacksonville, FL wrote, "The Dave Matthews Tribute Band turned out to exceed its billing as a quality improvisational band that uses Dave Matthews material as themes to improvise. Clearly, this distinguishes them from the other so-called tribute bands. The band is exceptionally tight and produces a solid groove over which the players improvise with hot chops."
Beyond mastering the DMB sound and the relentless touring, what separates The Dave Matthews Tribute Band from other cover bands is their passion, love, and respect for DMB and their music. That is what makes you come out of one of their shows saying, "Yeah, they really do sound like the real Dave Matthews Band."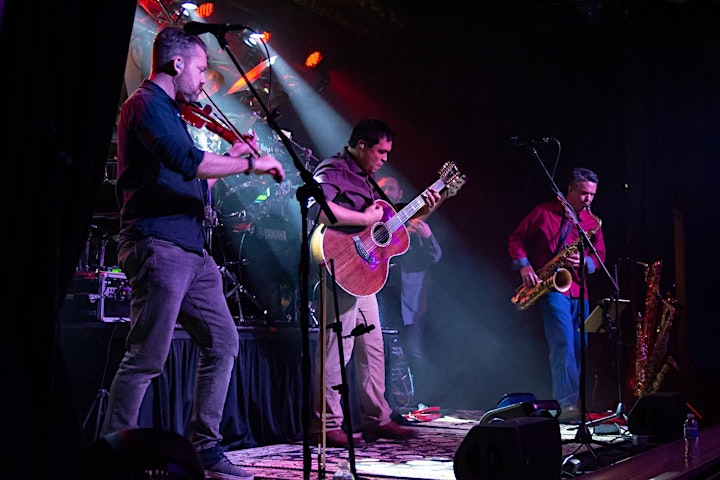 VENUE INFORMATION:
All ticket holders are able to order food and drinks during the event. Standing Room Ticket holders generally place their orders with the venue bar staff. Main Floor Reserved Table and VIP Balcony Table ticket holders are served by MadLife's friendly wait staff throughout the event.
Refer to the seating map below for a layout of the venue for this show. Please note the table arrangement is subject to change and not all tables may be available.
If You Wish To Select A Specific Reserved Table:
Holders of VIP Balcony and Main Floor Reserved Table tickets have the ability to select any available reserved table from the moment their tickets are purchased, up until 30 minutes BEFORE doors open to the event (i.e. if doors are at 6:30, cutoff time for selecting a reserved table would be at 6:00). Tables can be selected EITHER at the Box Office or by contacting the Box Office during its hours of operation at (678) 384-2363 ext. 1. Please note that tables cannot be selected online for this show and if you do not select a table, MadLife will select one for you. Selecting a table is not required, but is an option available.
For any wheelchair or ADA needs, please contact the Box Office in advance of the event at (678) 384-2363 ext. 1.
Please Note: Ticket Prices May Increase At Any Time
For any other questions regarding the event or tickets, please contact the Box Office during its hours of operation at (678) 384-2363 ext. 1.
Box Office hours of operation are Wednesday-Saturday 5:00 PM – 9:00 PM.