Brother Cane
Brother Cane — LIVE at MadLife Stage & Studios on Thursday, March 2nd at 7:30!
Brother Cane
WEBSITE | FACEBOOK | INSTAGRAM
Brother Cane is an American rock band originally from Birmingham, Alabama. Formed by singer/guitarist Damon Johnson and bassist Glenn Maxey in 1991, the group released three studio albums and charted three number 1's and five top 10 hits.
Brother Cane found immediate success with the release of its self-titled debut album in July 1993 which delivered three singles (the #1 "Got No Shame", "That Don't Satisfy Me", and "Hard Act To Follow") and garnered the band U.S. tours with Aerosmith, Robert Plant and Lynyrd Skynyrd. The band's next album, Seeds (1995), yielded another #1 Rock track, "And Fools Shine On", that led to a lengthy and successful tour in support of Van Halen. Three years later saw the release of Wishpool (1998) and Brother Cane's third #1 song at Rock Radio, "I Lie In The Bed I Make".
Over the next 20 years Johnson went on to become one of the most sought after guitarists and songwriters in rock. Touring extensively as a member of the Alice Cooper Band and Thin Lizzy, and co-writing tracks for the likes of Stevie Nicks, Carlos Santana and Steven Tyler, Johnson's profile steadily rose. In 2021 Johnson began filling in for his friend Gary Rossington in the legendary Lynyrd Skynyrd.
While touring with Skynyrd, Johnson and Glenn Maxey formulated an action plan for reforming Brother Cane. The band will be performing select dates in 2022 with plans for more in 2023 and beyond. "I'm just over the moon about this," says Johnson. "Brother Cane fans are some of the most passionate that I've encountered in all of my travels." He adds, "The songs have a timeless quality to them which we are certainly proud of. The guys and I are looking forward to bringing them to the people once again."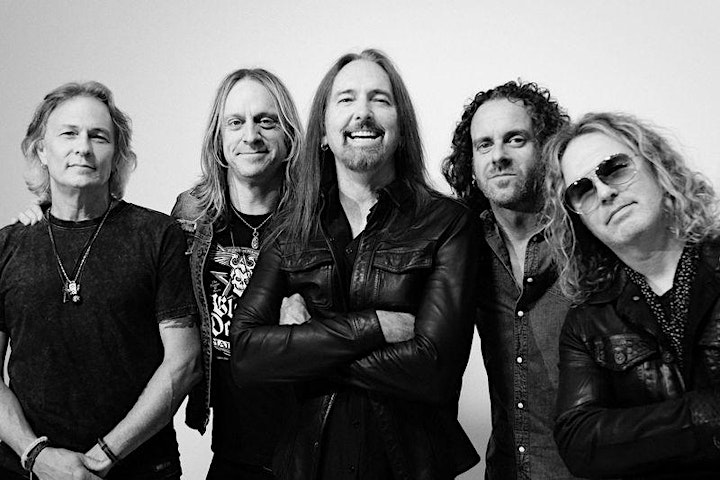 VENUE INFORMATION:
All ticket holders are able to order food and drinks during the event. Standing Room Ticket holders generally place their orders with the venue bar staff. Main Floor Reserved Table and VIP Balcony Table ticket holders are served by MadLife's friendly wait staff throughout the event.
Refer to the seating map below for a layout of the venue for this show. Please note the table arrangement is subject to change and not all tables may be available.
If You Wish To Select A Specific Reserved Table:
Holders of VIP Balcony and Main Floor Reserved Table tickets have the ability to select any available reserved table from the moment their tickets are purchased, up until 30 minutes BEFORE doors open to the event (i.e. if doors are at 6:30, cutoff time for selecting a reserved table would be at 6:00). Tables can be selected EITHER at the Box Office or by contacting the Box Office during its hours of operation at (678) 384-2363 ext. 1. Please note that tables cannot be selected online for this show and if you do not select a table, MadLife will select one for you. Selecting a table is not required, but is an option available.
For any wheelchair or ADA needs, please contact the Box Office in advance of the event at (678) 384-2363 ext. 1.
Please Note: Ticket Prices May Increase At Any Time
For any other questions regarding the event or tickets, please contact the Box Office during its hours of operation at (678) 384-2363 ext. 1.
Box Office hours of operation are Wednesday-Saturday 5:00 PM – 9:00 PM.