Synchronicity – Tribute to The Police
Synchronicity – Tribute to The Police — LIVE at MadLife Stage & Studios on Saturday, March 25th at 10:00!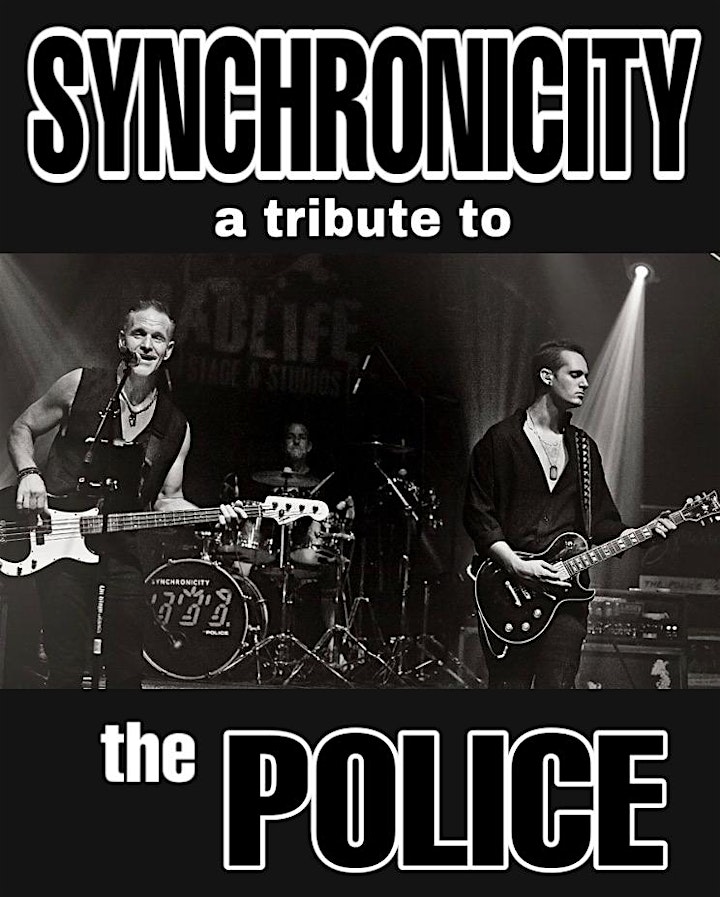 Synchronicity – Tribute to The Police
The English rock band The Police has released five studio albums, two live albums, seven compilation albums, twelve video albums, four soundtrack albums, and 26 singles. The Police sold over 100 million records worldwide. All this within six years of being a band.
Synchronicity, the Police Experience, was established in Columbia SC in 2017. Recreating the sound of the Police was no easy task. It started with Brian Geiger wanting to go outside the box and learn Stewart Copeland's drumming style. When Brian shared the experience with his buddy Paul Hale, an experienced local guitar player, Paul became inquisitive about Andy Summers' atmospheric style of playing. At this point, they realized it would be fun to play a few Police songs together, so they called in Ken Carnes to be "Sting." Ken had been singing opera and starring in classical plays but accepted the challenge to get back to good-old-rock.
The Police experience was born.
A two-hour show reminiscent of the Certifiable Tour had begun. With a list of twenty plus hit songs like Message in a Bottle, Roxanne, Don't Stand so Close to me, Wrapped Around your finger, King of Pain and even deeper tracks from the early Police albums like; Truth Hits Everybody, Next to You and Fall Out.
If you love the Police and have seen them live, you'll appreciate the detail that goes into the Synchronicity set. The famous sparkle blue Tama drums that Stewart Copeland uses, the guitar sounds performed by Andy Summers, and even the outfits from the certifiable tour give an almost exact replication of the Police live.
Our playlist is so energetic that even if you are not a fan yet, you will fall in love with this great band. Our ultimate goal is to bring the intensity of the early 80's music to newer generations. We are honored to be able to deliver The Police experience to you.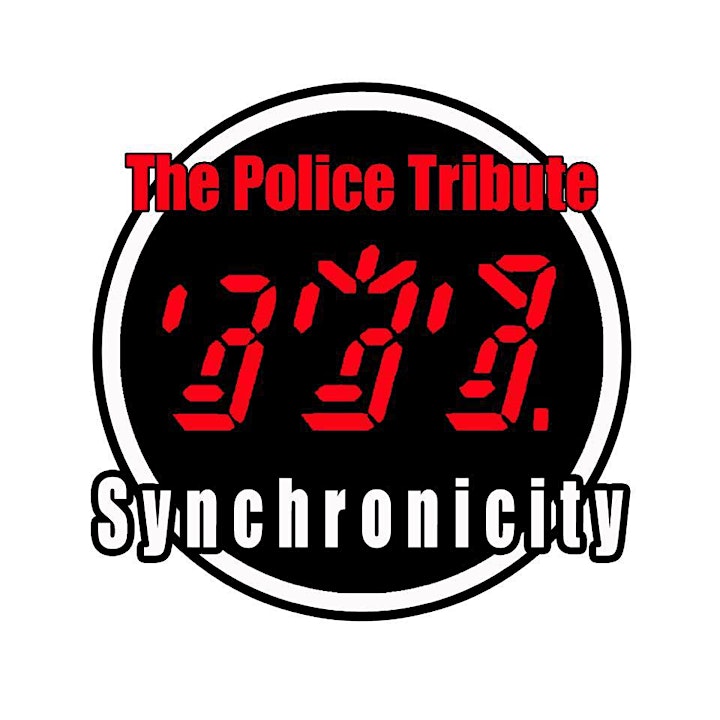 VENUE INFORMATION:
All ticket holders are able to order food and drinks during the event. Standing Room Ticket holders generally place their orders with the venue bar staff. Main Floor Reserved Table and VIP Balcony Table ticket holders are served by MadLife's friendly wait staff throughout the event.
Refer to the seating map below for a layout of the venue for this show. Please note the table arrangement is subject to change and not all tables may be available.
If You Wish To Select A Specific Reserved Table:
Holders of VIP Balcony and Main Floor Reserved Table tickets have the ability to select any available reserved table from the moment their tickets are purchased, up until 30 minutes BEFORE doors open to the event (i.e. if doors are at 6:30, cutoff time for selecting a reserved table would be at 6:00). Tables can be selected EITHER at the Box Office or by contacting the Box Office during its hours of operation at (678) 384-2363 ext. 1. Please note that tables cannot be selected online for this show and if you do not select a table, MadLife will select one for you. Selecting a table is not required, but is an option available.
For any wheelchair or ADA needs, please contact the Box Office in advance of the event at (678) 384-2363 ext. 1.
Please Note: Ticket Prices May Increase At Any Time
For any other questions regarding the event or tickets, please contact the Box Office during its hours of operation at (678) 384-2363 ext. 1.
Box Office hours of operation are Wednesday-Saturday 5:00 PM – 9:00 PM.