Water to Wine – Melodic Country, Americana, & Classic Rock
Water to Wine – Melodic Country, Americana, & Classic Rock — LIVE at MadLife Stage & Studios on Wednesday, September 8th at 8:00!
Water to Wine
WEBSITE | FACEBOOK | INSTAGRAM
Water to Wine, based out of Atlanta, mixes their Country, Americana and Southern Rock roots to create their own appealing sound.
Fronted by a male and female vocalist, their vocal lines and harmonies are an immediate stand out. Water to Wine's original music has a familiar ring to it, reminding the listener of the great Classic, Americana and Country rock legends. The group plays and sings with an organic touch that will remind you of their vintage southern and other diverse influences.
When you get the opportunity to hear a Water to Wine set, you'll be caught by the sweet Vocal performance, the precision of a Rhythm Section that hits hard, and the melodic back and forth between the Lead Guitar and the Keys and Organ. A little bit Ronstadt and little bit Eagles, this band will leave you keeping an eye out for their next show.
The band plays primarily in the Southeast at various amphitheaters and music halls.
In May of 2020, Water to Wine released their debut single "HERO" dedicated to the men and women working on the front lines during the pandemic. Their follow-up single, "Sisters and Brothers," was released in September of that year. The message of peace and kindness promoted by "Sisters and Brothers" gained them fans from all over the world. As the band prepares to release their next single, "Good Time'N," on New Year's Day, critics are already responding favorably to the message and the music.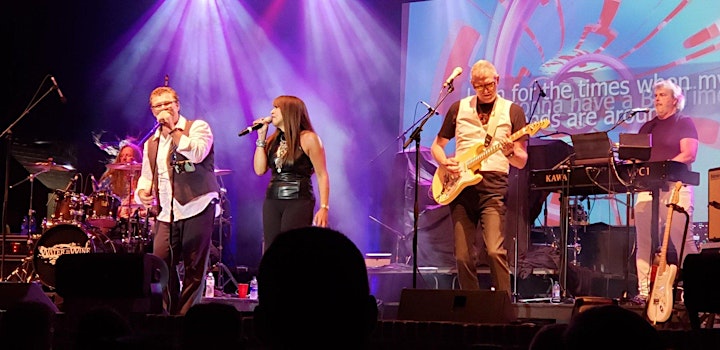 VENUE INFORMATION:
All ticket holders are able to order food and drinks during the event. Standing Room Ticket holders generally place their orders with the venue bar staff. Main Floor Reserved Table and VIP Balcony Table ticket holders are served by MadLife's friendly wait staff throughout the event.
Refer to the seating map below for a layout of the venue for this show. Please note the table arrangement is subject to change and not all tables may be available.
If You Wish To Select A Specific Reserved Table:
Holders of VIP Balcony and Main Floor Reserved Table tickets have the ability to select any available reserved table from the moment their tickets are purchased, up until 30 minutes BEFORE doors open to the event (i.e. if doors are at 6:30, cutoff time for selecting a reserved table would be at 6:00). Tables can be selected EITHER at the Box Office or by contacting the Box Office during its hours of operation at (678) 384-2363 ext. 1. Please note that tables cannot be selected online for this show and if you do not select a table, MadLife will select one for you. Selecting a table is not required, but is an option available.
For any wheelchair or ADA needs, please contact the Box Office in advance of the event at (678) 384-2363 ext. 1.
Please Note: Ticket Prices May Increase At Any Time
For any other questions regarding the event or tickets, please contact the Box Office during its hours of operation at (678) 384-2363 ext. 1.
Box Office hours of operation are Wednesday-Saturday 5:00 PM – 9:00 PM.