Ticketing Powered by
Smokey Jones and the 3 Dollar Pistols – Country & Honky-tonk
Smokey Jones and the 3 Dollar Pistols – Country & Honky-tonk — LIVE at MadLife Stage & Studios on Friday, September 16th at 7:00!
Smokey Jones and the 3 Dollar Pistols
Smokey Jones and The 3 Dollar Pistols are not your average country band. They are swash buckling, bull riding, bar fighting, honky tonk legends. The Jones boys pay an honest tribute to classic country and honky tonk music. Its about the show, its about the experience. Its about being entertained through country music with a twinge of comedy. Its about the supreme musicianship these guys have established through decades of studying the greats. One of the few bands left with pedal steel and twangy guitars, they will take you on a ride through decades of country sounds. Two stepping, line dancing, beer drinking country music is this band's specialty, a show not to be missed.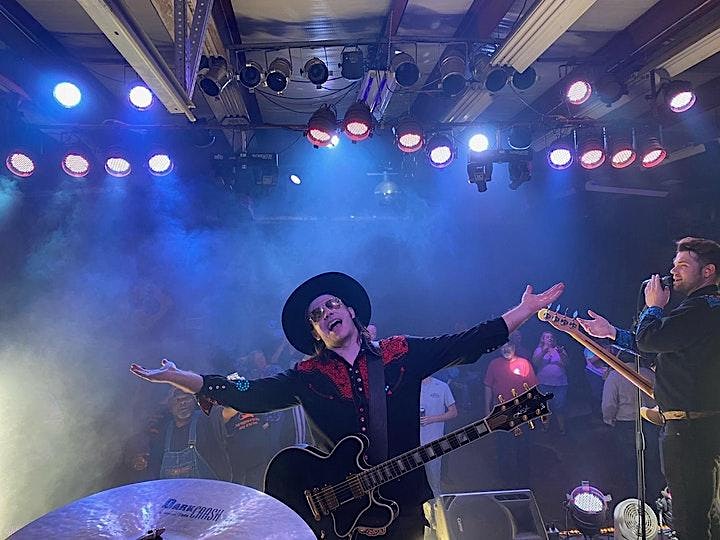 VENUE INFORMATION:
All ticket holders are able to order food and drinks during the event. Standing Room Ticket holders generally place their orders with the venue bar staff. Main Floor Reserved Table and VIP Balcony Table ticket holders are served by MadLife's friendly wait staff throughout the event.
Refer to the seating map below for a layout of the venue for this show. Please note the table arrangement is subject to change and not all tables may be available.
If You Wish To Select A Specific Reserved Table:
Holders of VIP Balcony and Main Floor Reserved Table tickets have the ability to select any available reserved table from the moment their tickets are purchased, up until 30 minutes BEFORE doors open to the event (i.e. if doors are at 6:30, cutoff time for selecting a reserved table would be at 6:00). Tables can be selected EITHER at the Box Office or by contacting the Box Office during its hours of operation at (678) 384-2363 ext. 1. Please note that tables cannot be selected online for this show and if you do not select a table, MadLife will select one for you. Selecting a table is not required, but is an option available.
For any wheelchair or ADA needs, please contact the Box Office in advance of the event at (678) 384-2363 ext. 1.
Please Note: Ticket Prices May Increase At Any Time
For any other questions regarding the event or tickets, please contact the Box Office during its hours of operation at (678) 384-2363 ext. 1.
Box Office hours of operation are Wednesday-Saturday 5:00 PM – 9:00 PM.